January '02 A growing disillusion with work forecasts a change of venue in the vocational arena. All depends how long I can stand the ever expansive incompetence!
Nov-Dec'01 Generally an good ole holiday season with the exception of my first intermingling with Marti's family (an absolutley fun and wonderful bunch!). Uneventful- yes, but this year, uneventful is a welcome thing!

October '01 (24th) - MARTI & RICH ENGAGED!
A special day for Marti & Rich - Today I asked Mart to marry me, and shazam! She said yes!
Date forthcoming...

September '01 (9/11/01)
The new day of infamy. I'm having trouble swallowing what has happened - as everyone is, I'm sure. Our world, this country, and my view of our planet's future - has changed forever. God bless the victims. God bless us all.
September '01 Spending the majority of this month preparing for Marti's arrival. Painting, cleaning, arranging, cleaning, ....cleaning. Wow, this place is really a mess. Marti's stuff gets here the 18th, she follows about about 2 weeks later.
August '01 (general) In anticipation of the transfer to Portland that never happened, OfficeMax moved me from store 521 (run like a sterile boot camp in suburbia with semi-snobby clientelle) to store 677 (run like a messy madhouse in the heart of the city with sticky-fingered clientelle). I think I like it - much more colorful.......................... Anticipating Marti's arrival possibly sometime in early September. :)
August '01(1-2) Well - here's a moment where life gets strange. A blind-siding twist of events turning everything upsideown. Within a matter of days, I am no longer going to Portland and Marti is now moving here. It's a rather long story, involving the employment of a third party. But at least we'll both be in one city.!
July '01 (25th) OfficeMax decides to move me to store 677 in Omaha while waiting for Portland transfer.
July '01(17th) Officially decided to take the plunge and requested transfer to Portland from OfficeMax
July '01 (3 - 15) Marti comes to Omaha for two weeks! Didn't drive each other nuts as we had expected, but instead had a wonderful time together and spent quality time with family and friends.
June '01
(15-17) My second trip to
Portland
took me to Cannon beach on the Pacific ocean which - combined with Marti's company - was quite dreamy! The drive through the forests was majestic. I also spent some time on my own meandering through the downtown area, which was even more exciting than I had remembered.
See Pics Here
!....
(1-3) Marti makes another visit to Omaha, this time introducing me to her sister Sue and her son Spencer. The three of us then joined her parents for a wonderful dinner. Also spent some cabin time with my parents. A wonderful weekend all the way.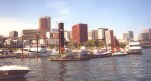 May '01
(3-6) The big trip to
Portland
!!
Beautiful city, mountains, fun places.. all this and Marti too! Click
here
for more.
April '01 (19-23) Another visit from Marti. We called this the "Parental" weekend as we took on the task of introducing each other to our parents with very positive results (my Dad hugged her, her Mom patted me on the head). Now the questions are starting. "Who's moving where?" is just one of 'em. Yea, we're kind of enjoying the "keep everyone in suspense" thing. hee hee

March '01
(1-17)
In a completely unexpected, but wonderful turn of events, communications between myself and
Marti
turned to something more than friends. After flying in from Portland for my St. Patricks day party, it was obvious that she will be in my life indefinitely. I am looking forward to our next rendezvous in April! Regardless of our distance, we both realize that this is an opportunity not to be missed. Meanwhile, friends are taking bets on how long it will take us to get engaged. They'll just have to wait and see.
February '01 (2/3) Began work on the overhaul of my parent's computer, bringing them from the tech stone age (133mhz) to at least semi-obsolete (550 mhz).
January'01 (1/2-1/12)Trained for new O'max position in Oklahoma City where I learned lots and probably saw every movie ever aired on Showtime in my hotel room.

December's
(12/7)
My radio career came to a sudden halt (again) after which I have returned to the wonderful world of retail with my old friends at
OfficeMax.

September'00
-
Lauren -
my pen-pal from England, came to visit. What started as an on-line friendship transferred nicely to "reality"! Surely one of the finest people I will ever know. Currently she is moving forward in her writings and photography back in England. See her work at:
www.halkon.co.uk